November 16, 2011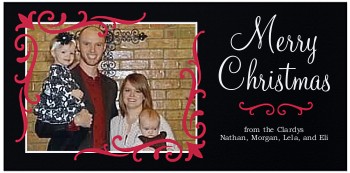 Flourished Frames Christmas
Click here to browse Shutterfly Christmas card designs.

Posted by

Morgan
at 12:33 PM
0 comments
Links to this post

November 11, 2011
Eli, you are three months old!
You are 15 lbs. and 23 1/2 in. long (I think I recorded the length incorrectly last month)

You fit in 0-3 month & 3 month clothes. You are pretty much the average size since everything pretty much fits you according to size.

You are in size 1 diapers (but they are getting pretty small!)

Despite your seemingly joyful expression in the first picture, you weren't too thrilled about having your picture taken.

You don't give out the smiles too readily ;) I think this face is saying, "Why are my mom and dad making so many funny noises?"

But every now and then we capture your sweet smile :)

You are holding your head up really well.

You have also enjoyed some time in your exersaucer.

You have attempted to roll over but you haven't done it yet.

You are always kicking your legs moving your arms, especially when you're laying on the floor. It's like you're trying to move out!

You can also bear your weight on your legs when we hold you up.

Your sister thinks you're pretty great.

In fact, I think she's pretty enamored with you.

Half the time you wake up around 3:00 am for a feeding and then you stay in the bed with us until your 6:00 feeding.

You eat every 2 1/2 or 3 hours during the day.

You usually get quiet or sleep in your stroller or the car.

You have started putting your fingers and other things in your mouth.

You always do good in the nursery but the ladies always say "he spit up a lot" whenever I pick you up. They have dubbed you the Spit Up King :(

You will look for me and Daddy whenever you hear our voices and you love to watch your sister do funny things :)

You are talking more now but it's usually after Lela goes to bed. That girl doesn't let you get a word in edgewise!

You will laugh occasionally, but you are a tough crowd.
You are growing like a weed and you no signs of slowing down!
Your personality is coming out more and more each day and I can't wait to see more!
You are a handsome boy and Daddy and I are already so proud of you!
Posted by

Morgan
at 12:03 PM
0 comments
Links to this post